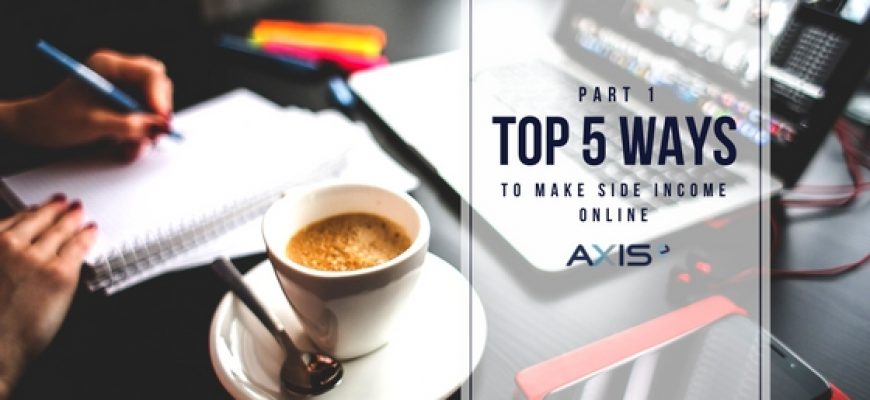 Are you looking for ways to earn extra income on the internet but have no idea on how to start? If yes, then, we suggest you to leverage the internet. Because, one of the great things about the internet is that you can make side income for yourself from the comfort of your home and all you need is an internet connection. So, if you're looking to make money online from home, then the following suggestions might likely right for you!
Freelancer
Don't want to commit full-time in your online job? Then, self-employing or better known as freelancing may be the answer for you if you want to earn extra income on your own terms. As a freelancer, you can provide various services such as data entry, copywriting, translating documents, product photographing and many more. So, like to write? Maybe it's time to put that passion of yours for better use!
Social media influencer
It is widely known that starting a career based on social media platforms like on Instagram, YouTube, Facebook and so on is the same as starting your own business anywhere else. So, just like business, as a social media influencer, your job is to create the attractive content that able to captivate audiences. This is because, in social media world, increase in readerships is equal to increase in popularity. So, when your content finally become sought-after by your reader, that will be the time where sponsorships from brands will slide into your mail boxes. Those brands will then ask your favour to do product reviews, attend their events and any other promotional events where you'll get paid in return!
Sell second-hand belongings
Do you know that you can easily start listing your used belongings on certain sites, for totally free of charge? Yes, sites like Carousell, Mudah.my and Duriana offer 0 listing fee — so listing your preloved items are never been easier and convenient! People often say, one man's junk, can be another man's treasure. So, if you have unneeded items in good condition, do consider to sell it!
Online tutor
Do you enjoy teaching? If you do, then online tutoring might be a good opportunity for you and for those who are particularly skilled at certain subjects to make extra cash in a flexible way. By leveraging on the internet as a teaching medium, it provides you the convenience which save you the time and money used on traveling from a place to another.
Sell craft work
If you're a talented individual who have flair in handcrafting, selling handmade crafts online might be your thing! Putting your crafts on sale online is one of the easiest ways to earn some side income because all you need is just to upload pictures of your artworks with some interesting details and (voila!) you are on your way of earning some side income. Sites like Depop and Etsy are probably the best-known marketplaces for creative-minded people of all types to sell handmade crafts or craft supplies online. Accounts are free, but users have to pay small listing fees and a percentage of each sale made on the platform.