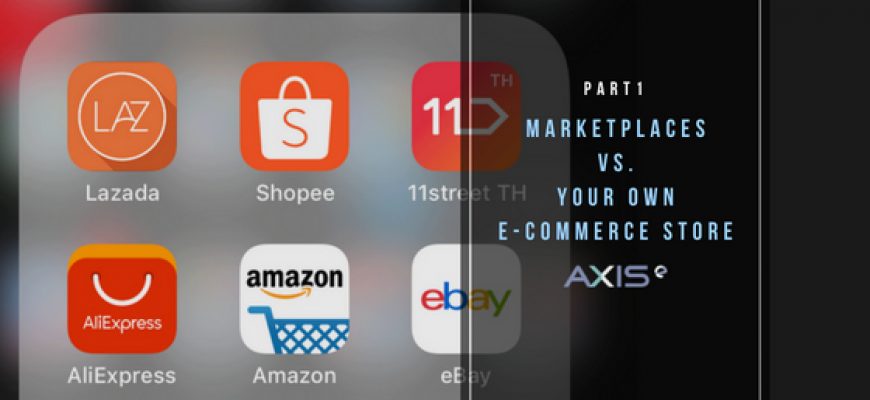 Both the marketplace and website offer vast opportunities for e-commerce exposure. However, if you just starting and wanting to sell your product online, we always believe that selling on the marketplace is the best way to start! You can either participate in existing e-commerce marketplaces, like Amazon and eBay, or start from local marketplaces like Shopee and Lazada. But, why marketplace? Partly because participating on an existing platform is easier to start with, as there are already tons of users on board and it usually does not require expensive initial costs.
However, later on, if your products already have some volume of users (and sales), then only it's the right time for you to build your own site as you can customize it to fit your brand image. Besides that, by having your own website, as you can also save more on the running cost since marketplaces charge merchants some percentage (around 5–10%) of their sales – which can be quite a sum for those businesses that have a large volume of sales.
Credibility and Trust
It is a safe bet for a customer to buy from a marketplace because it seems 'familiar' to them. For example, when you go to a marketplace like Amazon, eBay and Lazada there is a sense of credibility and trust, hugely because they have been serving customers for quite some time, with a proven system and track record.
Potential for More Sales
Marketplaces have a huge online presence! With a ton of daily traffic, your product will have greater exposure, in front of more potential customers. Just imagine, eBay alone has over 149 million active users! So, with this large of a customer base, it's high-likely for your business to see an increase in your sales. Another marketplace, Amazon gives you access to over 244 million global buyers which indirectly gives you access to international markets. Other marketplaces like Carousel give you access to a large, yet targeted customer base with an emphasis on handcrafted and preloved items.
Marketplace Infrastructure
Marketplaces have been developed to host a large variety of products with the ability to host, reach, and sell to a massive amount of buyers every day. Customers go to marketplaces for the convenience of this all-in-one shopping experience, product comparisons, and streamlined checkout. And not only to the customers, they also make it extremely easy on the merchant side as the marketplace mostly handles the entire transaction.