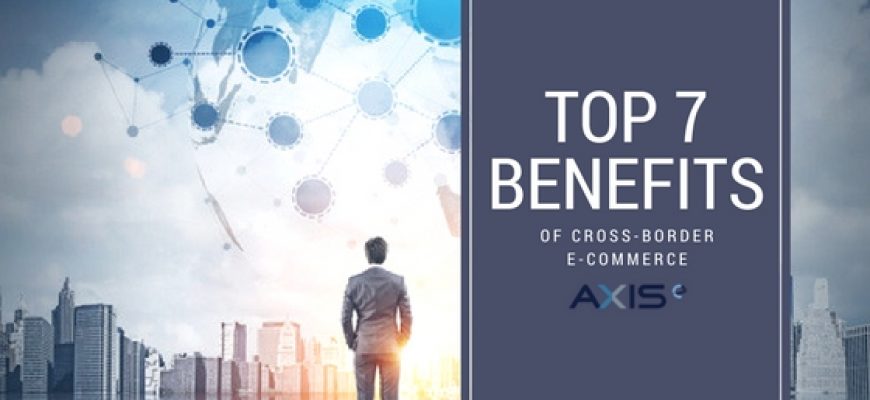 Cross-border e-Commerce has taken the entire world by storm as it is growing rapidly and has sprung up like never before. The merchants can now sell their product to their customers that are located in different countries. With the advent of the internet, it is increasingly easy to become a global seller and enjoy the cross-border e-Commerce benefits. The number of online shoppers is increasing day by day due to the existence of international e-Commerce. Thus, the following are some of the benefits of cross-border e-Commerce that can help your business reach out to the potential customers globally.

1. International expansion
Cross-border e-Commerce benefits the sellers, both retailers and brands as they get the opportunity to expand their business into demographics with a burgeoning economy. The domestic e-Commerce retailers can expand their business and market penetration. They get an opportunity for selling products internationally throughout the globe.

2.Increased revenue
With cross-border e-Commerce, the seller gets the chance to penetrate into the international market. Once they trade in the international market, the brand gets more recognition which eventually results in higher demand. So the sellers get an opportunity to increase their revenue in the international market.

3.Brand awareness
Cross-border e-Commerce benefits the sellers by improving their brand awareness in the international market. If you offer unique products to your audience that abide by their needs and requirements, you are increasing your brand awareness and recognition which it helps to create a global brand. Cross-border e-Commerce also opens up the possibility to customize your product that suits the different market needs.

4.Maximizes selling of low demand domestic e-Commerce products
At times, a product that is not famous in domestic e-commerce may have a high demand in other markets. Cross-border e-Commerce is a platform for best products to sell internationally. Hence, the seller is enabled to sell a product in the international market that has low value or recognition in the domestic market.

5.Increased access to end customers:
By reducing the end selling price, you will be able to attract more customers in the international market who have traditionally been controlled by distributors earlier. In this way, you will be able to drive higher sales and have a greater share of the profit margin.

6.Builds a good customer relationship
If your customer trusts the product you sell, he/she will automatically develop faith in your brand which will help in building a good customer relationship. Genuine and good quality product offered at the affordable and competitive price will facilitate the customers shopping with your brand frequently.

7.Increased business sustainability
Cross-border e-Commerce is a growing and emerging platform today, with increasing recognition worldwide. Therefore the sellers don't have to worry as their brand will sustain in the international market with more awareness and popularity among the customers.
So if you want a platform to increase your business sales and overall profit overseas then cross-border e-Commerce is a great way to reach out the international market. Cross-border e-Commerce will help you achieve success in the other demographic markets with ease and high levels of overall profits. Still wondering? Don't worry, let Axis helps and guides you throughout this journey!